From keyless locks and wifi-connected doorbells to AI-enabled cameras, home security just got a whole lot smarter
Whether you're sick of the kids constantly losing their front door keys, won't be at home to accept a parcel, or if you worry about what your pet gets up to all day, the latest home security systems have you covered. Plus, they're more affordable and easier to install than ever. Here are the innovations you need to know about if you're looking to boost your home security.
Photo by Denai Kulcsar Interiors
"With the arrival of the Internet of Things, home security systems are smarter and more connected than ever," says Jeremy Stewart, vice president of global marketing at Swann security firm.
The Internet of Things (IoT) has revolutionised home security systems as well as home technology, and refers to devices ('things') with embedded connectivity ('internet') that can communicate with you or one another, machine-to-machine. For instance, an air conditioner that senses when the temperature rises, switches on, and sends a notification to your mobile.
"You can now remotely control your door locks, lights, thermostats and hone your home security systems to monitor and prevent unwanted activity in and around your home," says Stewart.
"The main innovations we've seen over the past few years are integration with smart-home assistants such as Google and Alexa, and the ability to customise your CCTV security to suit your needs. Advances in technology have made facial recognition, line crossing and perimeter intrusion have now become standard features," he says.
The advent of smart phones has been one of the biggest drivers of home security design, says Stewart. "Mobile phones have enabled consumers to access live footage and playback recordings of their home remotely. Also, users can arm or disarm their connected security and CCTV systems from anywhere in the world," he said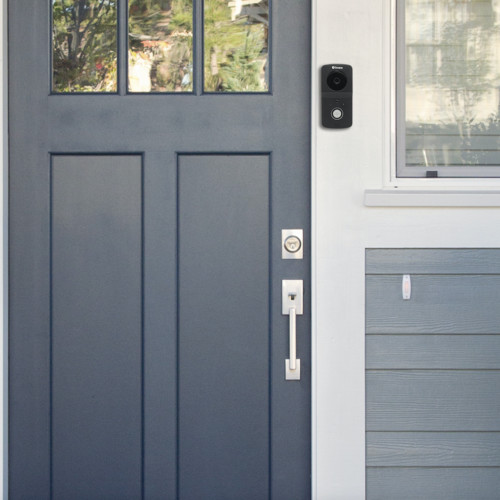 Security is becoming cheaper and more accessible
"Home security systems used to be seen as complex and expensive, but this has changed drastically in recent years," says Stewart. As technology has advanced and new players have entered the market, prices have come down significantly. You can now pick up a home security system for as little as a couple of hundred dollars (Swann's Wire-Free Smart Video Doorbell kit costs just under AU$200 (NZ$212) and offers two-way audio, night vision and free cloud-video storage; while entry-level digital doorbells on the market start at around AU$70 (NZ$75)).
Installation of home security systems is now easier too; choose from traditional wired installation or opt for a quick and easy wireless set-up. "Those wanting a fast solution or who are renting now have the option to install a wireless home security camera or system in just minutes," says Stewart.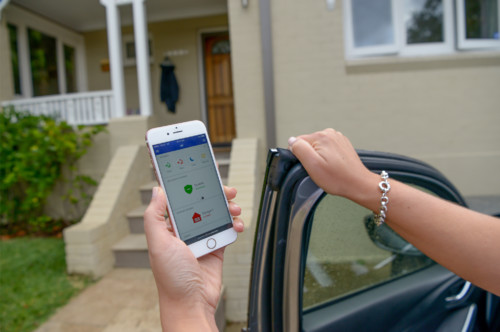 "Wireless technology also means that servicing your alarm is easier as you don't have to check wires for issues," says Darryn Bull, head of sales at ADT Security. "Plus, a wireless system is portable, so if you move home, you can take it with you."
Bull issues a word of warning, though. "While there are plenty of DIY home security solutions on the market, investing in a professionally installed, monitored system is, in my view, the most reliable security solution."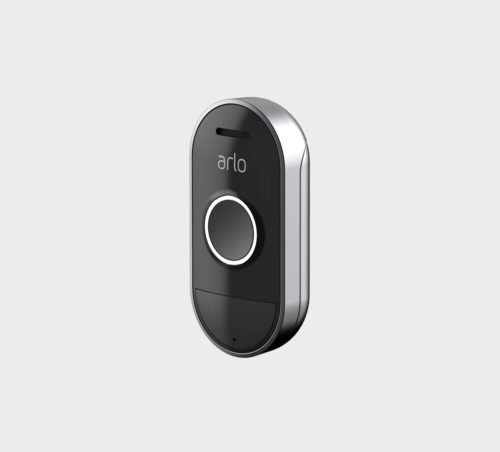 Digital doorbells
Tired of having to jump up and down to open the front door every five minutes? Don't despair – the latest wireless video doorbells allow you to see who's calling, talk to your visitors and open the front door, all from your smart phone (you don't have to get up from the sofa… or even be at home).
Models such as Nest Hello ($339 (NZ$359) at Dick Smith) offer 24/7 video streaming, and allow you to communicate with the person at your front door and open your door to them via your mobile. Arlo's Audio Doorbell ($129) (NZ$140) performs these functions and will also send an alert to your mobile whenever someone presses your doorbell and let you know if anyone in your household grants them access.
If you pair the Arlo system with the brand's wireless camera, you can also use their subscription-service plan to intelligently detect who is standing at your front door.
Photo by Big House Little House
Keyless locks
Good news for anyone who constantly loses their front door key – keyless locks are becoming increasingly common in homes across Australia and New Zealand. Rather than using a key, you open the door by punching in a code, scanning your fingerprint or, in some instances, simply giving a voice command.
"The appeal of keyless and digital locks is that they remove the challenges that come with door keys, such as that they can be easily copied, stolen or lost," says Stewart. "Additionally, digital locks can be integrated with your alarm system to provide an extra layer of home security."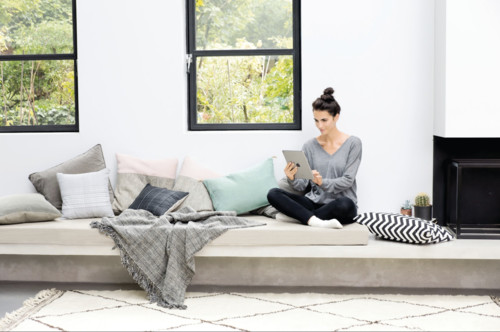 Cameras that know your face
Want to keep an eye on what your pets or teenagers are up to when you're not at home, or be alerted if an intruder gets into your property? If so, consider one of the latest intelligent indoor or outdoor surveillance cameras that stream footage directly to your smart phone.
"The new generation of smart security cameras are embedded with Artificial Intelligence (AI) so they can detect which situations are unusual and report them to you," says Maryline Bererd, Netatmo's product marketing manager. "Netatmo's Smart Outdoor Camera can distinguish between people, cars and animals, while the Indoor Camera has a facial-recognition feature. So, instead of watching hours of footage, you're only alerted when an intruder breaks into your home or a car trespasses onto your property."
You can also connect Netatmo cameras to smart home systems such as Apple HomeKit so that lights turn off automatically when a person leaves the room, saving you hassle and energy costs.
Photo by MATT architecture LLP
Devices that read your air quality 
Indoor air pollution can lead to all sorts of health problems and is a particular concern if you have young children or household members with respiratory problems. You can now buy devices that 'read' your indoor air quality and provide recommendations for creating a healthier environment. 
"Netatmo's Smart Indoor Air Quality Monitor has four sensors that measure the vitals of the home: temperature, sound, humidity and air quality," says Bererd. "It connects to an app that allows you to measure and check these levels on your smart phone. The Artificial Intelligence takes into account the actual measurements, room profile, time of day and season to make sure that users receive the most relevant advice possible."
Related: Is your Home making you sick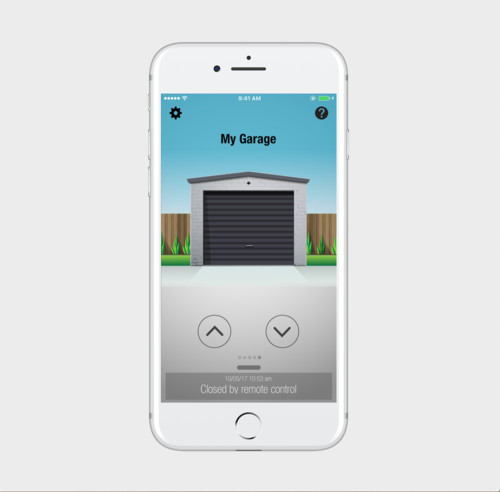 Intelligent garage doors
Away from home but expecting a parcel delivery? Garage door specialist B&D Security has a clever app that allows you to monitor and control your garage door remotely. B&D Security's Smart Phone Control app sends real-time notifications to your mobile phone whenever your garage door is opened, plus a partial-opening or restricted-access mode (great for when you want a courier to pop a package under your garage door without giving them full access, or you simply want to let the dog in). You can also fully open and close your garage door from wherever you are in the world. Now that's home security !!
"In addition, you can purchase an auto lock, which automatically locks your garage door every time you close it, helping protect your home and loved ones," says Merridy Leonard, assistant brand manager at B&D Security.
by Georgia Madden Senior writer, Houzz Australia
Do you have a question on the local Real Estate market, or should you spend money on your home before you sell, just call Matt Wineera on 0274 951 536 who is always on hand to answer your query.
Work with Matt Wineera who lists and sells in the Tauranga, Mount Maunganui and Papamoa areas.