Kiwis selling their homes can save more than $10,000 in real estate commission fees by shopping around according to new research from Consumer New Zealand.
Sellers have also been told to haggle – with many agents willing to offer a special rate if they learn they face competition.
For the sale of a $550,000 house (the median price in December 2017), real estate commission fees at major real estate companies ranged from just over $14,000 to nearly $26,000.​
One company, 200 Square, charged a much lower flat fee of $4500 but was online only.
• READ MORE: Mary Holm: Make agent work for your listing
Using a mystery shopper, Consumer compared the real estate commission rates of 12 agencies, including three major agencies based outside Wellington.
Researcher Olivia Wannan said one of the reasons agents can get away with charging high real estate commission fees was because of how difficult it was for consumers to shop around.
"It's time consuming to meet with one agent, let alone three or four. But it can save you thousands," she said.
"When agents heard our mystery shopper was speaking to more than one agency, they tended to offer a special rate lower than their standard fees."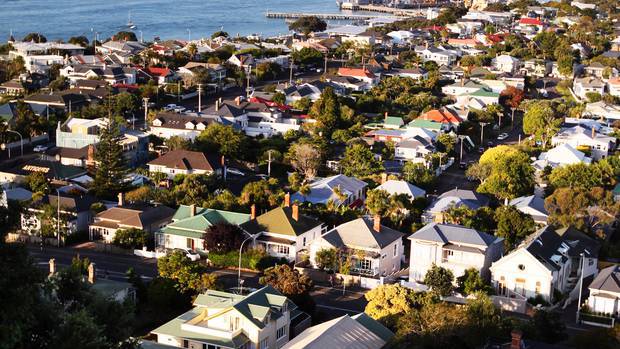 A real estate commission rate wasn't the only thing to consider when selling, consumers should also consider marketing costs and the anticipated or "appraised" sale price offered by each agent, Wannan said.
"You'll also want to find someone you click with. Sellers need to strike a balance between all these things."
She warned sellers to be sceptical about estimated sales prices in written property appraisals and to always read the agency agreement thoroughly before signing.
"Some have nasty clauses that require you to pay real estate commission even after the agreement has expired."
Real Estate Institute of New Zealand chief executive Bindi Norwell said it was true agents would often lower their fees to give them a competitive advantage if they knew a customer was shopping around.
"However, our advice is that choosing an agent on real estate commission alone could lead to losing a significant amount of money by achieving a lower price for the property."
Sellers should also consider an agent's experience, local knowledge, contacts and negotiating skills and go with someone they trusted, Norwell said.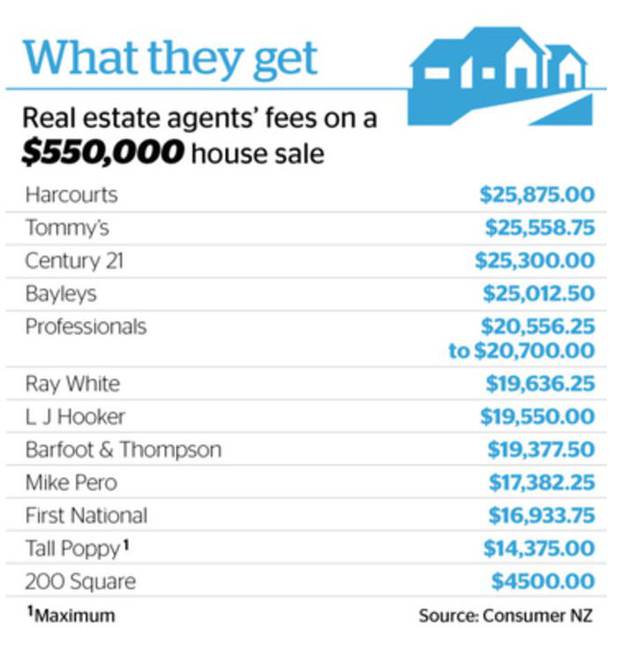 Tall Poppy had the lowest real estate commission fee of all companies offering a full service: $14,375 for a $550,000 house.
This was $11,500 less than Harcourts, whose agents would take a cut of $25,875 for the same value sale.
Two thirds of the real estate agencies Consumer compared charged less than $21,000 in fees, and the rest charged around $25,000.
Harcourts had the highest fee, but not by much, with Tommy's and Century 21 charging $25,558.75 and $25,300 respectively.
Harcourts CEO Chris Kennedy said as the company was franchised, each business was free to structure their real estate commission fees as they felt best suited their clients, taking into account the level of service the sales consultants delivered and what clients required.
There would always be room in the market for low-cost operators, he said.
"As such this figure does not represent a standard Harcourts' commission fee."
"In the end, it comes down to potential clients deciding which real estate company provides the best value for their money, rather than which is simply the cheapest.
"As franchisor we do not dictate what our franchisees charge as real estate commission fees. As such this figure does not accurately reflect Harcourts' commission fees."
Tall Poppy co-director Sam McIntyre said the company charged on a tiered system kept low by saving on overheads such as multiple offices.
"The world's changed. You needed these big offices when there wasn't the internet. But now they're just irrelevant."
By: Tess Nichol Reporter, NZ Herald [email protected] @tnichss
Do you have a question on the local Real Estate market, or should you spend money on your home before you sell, just call Matt Wineera on 0274 951 536 who is always on hand to answer your query.  
Check out our Value Plus Real Estate Selling Commission which saves you lots of money when you sell your home with Matt.
Work with Matt Wineera who lists and sells in the Tauranga, Mount Maunganui and Papamoa areas for Reality Realty.