We often get asked about styling your home for sale, so we've put together some home staging and styling hacks to help you prepare your home for sale.
Make an entrance
First impressions! Need we say more? One of the most impactful spruce-ups you can do is to make your entranceway a warm and inviting place for greeting guests. A beautiful entrance mat and well-placed planter bring a little life to dull doorways. If your entrance leads into a hallway or passageway, a mirror can help to make the space feel bigger – a great selling point for busy families walking into your home. Add seating with a narrow bench or stool, so your potential buyers can visualise themselves coming home and kicking off their shoes and a few well-positioned wall hooks provide a handy spot to hang coats, hats or umbrellas.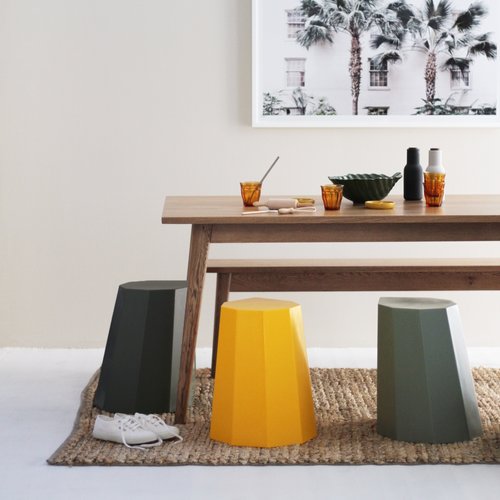 Entertainer's delight
One of the most-used areas of your home is the kitchen and dining spaces, which puts these rooms at the top of the agenda for most home buyers. If your budget doesn't stretch to a full renovation, there's a lot you can do with styling to sell the dream. In the kitchen, create a display that inspires the foodies using rustic elm serving boards, a selection of cookbooks, fresh herbs and ceramic serveware. In the dining room, an update of dining chairs can instantly transform dining settings, and a natural linen tablecloth adds that lovely finishing touch to your home.
Made for lounging
The heart of your home. The most important thing to do in the living room is to create a conversation area, a comfortable space that makes people feel like sitting down and relaxing. This may consist of a sofa, a coffee table and a chair or two. We always recommend using a large rug to encompass these pieces, creating a visual 'room' within a room for extra cosy factor. Then consider your lighting – is there room for a floor lamp as a secondary light source? Would the space benefit from having a large pendant hanging in the centre to create some drama? Neither requires a lot of work yet can have a big impact on the mood of the room.
Dress your bed
A full bedroom re-do is rarely what's required. You'll be surprised at what a change a beautifully styled bed can make, adding colour, texture and a striking focal point for the room. Linen bedding is a great option here. It's lived-in look reflects a relaxed, everyday mood that potential buyers will find oh-so-inviting. Build your bed with two to four standard pillows and if there's no existing headboard to work with, add two euro pillows to create height and drama. For a look that's versatile and has wide appeal, opt for a neutral colour palette of white, grey and natural tones, with a pop of earthy olive or terracotta as the highlight. Don't forget your layers – add a matching throw to the end of the bed to cosy up the look.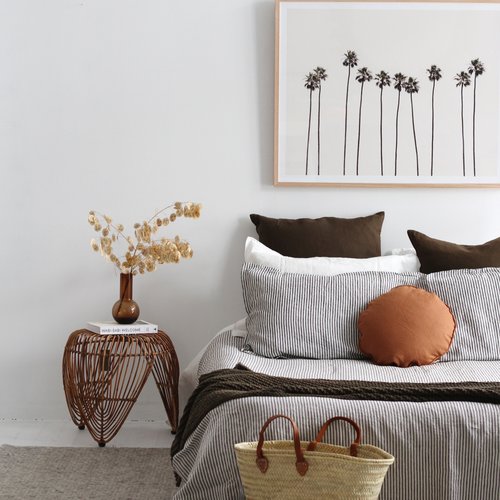 A dreamy bedroom
Before the bedroom is done, consider tying everything together with the addition of some eye-catching art and mood lighting. The best spot to position a print or painting will be above the bed. Extra points for matching your artwork to your bed linen with a common feature colour. The bedside is another opportunity to add some personal pieces for that homely touch. An interesting book, a candle and a lamp for that extra layer of light. When styling bedrooms as a whole, be sure to stick within a palette of up to five colours in tones of different depths so the overall effect doesn't overwhelm.
Splash out
Updating tapware, hardware and fixtures is an easy and cost-effective way to modernise a tired bathroom. Remember that in small spaces like bathrooms, little things can make a big difference. Adding a new bath mat, matching hand soap and lotion pumps basin-side and a beautiful hand towel or laundry basket can not only make this space feel a lot more functional, but give your home a more luxurious feel.
Finishing touches
Once your main elements and large furniture pieces are in place, then is the time to complete your look with the all-important finishing touches. Don't leave tables and surfaces bare – add lived in, homely elements like an interesting vase or storage tray, books, candles and faux foliage to make people feel more relaxed and at home and can imagine living in your home.
article by Alex Walls, Director at A&C Homestore
We work with a number of Home Styling and Staging local businesses who are available to advise you on how to present your home when you list your home for sale.
Do you have a question on the local Real Estate market, or should you spend money on a renovation of your home before you sell, or any information about a local area, just call Matt Wineera on 0274 951 536 who is always on hand to answer your query.
Work with Matt Wineera who lists and sells in the Tauranga, Mount Maunganui and Papamoa areas.
Check out what clients have to say about Matt
Matt continually achieves great results for Home Owners through his negotiation skills and vast real estate experience, knowledge and expertise.
Matt is very passionate about real estate and loves being at the coal face.
You can also check out, follow & like Matt's Instagram posts and Facebook page