It's all too easy to delay the January to-do list in favour of spending balmy nights in the garden or racing to the beach at the weekends. If this January has already caught up with you, take advantage of the momentum a new year brings to clear out clutter, start a healthy habit and make plans for the year ahead. These 10 ideas can be done on a Friday night, leaving your home refreshed and revived in time for Saturday brunch… maybe next Friday night all while still enjoying summer.
Photo by Kate Hansen Photography
1. Do the post-holiday cleanup
Pack up holiday decorations carefully for next year and give your living space a thorough cleaning to pick up stray pine needles. Break down cardboard boxes, gather wrapping materials to recycle and find homes for holiday gifts.
2. Buy flowers and open windows
Boost home spirits or stifling summer days by letting the breeze in and by filling your home with the sweet scents of freshly cut flowers and new potted houseplants.
3. Give your command centre a reboot
The spot where you drop items as you walk in the door can be a clutter magnet. Make a fresh start for the new year by clearing away the paper, old pens, rubber bands and other random items that have migrated into your command centre. Clean the surface, remove old notices from the notice board and put up a new calendar.
4. Sharpen knives
Cooking with sharp knives cuts down on prep time and is safer, too. Take your kitchen knives to a pro to be sharpened, and maintain them between sharpening sessions with a honing tool at home.
5. Give your kitchen a healthy makeover 
Making a resolution to eat more healthfully? Start by clearing those less-healthy options out of your cupboards and fridge. Place fresh fruits and vegetables front and centre, and put healthy-food preparation aids, like a juicer or blender, on the counter where you are more likely to use them. Who doesn't love a smoothie in summer ?
6. Clear clutter responsibly
If you are doing a new year's purge of unwanted items, keep things out of the landfill and help others by donating gently used items to a good cause. For other items be sure to recycle responsibly – try to find a recycling centre that accepts electronics, paint, clothing and more in your area.
7. Gather home inspiration and set goals
Whether you're thinking of renovating or simply picking a new paint colour for the living room, use downtime in January to do some research and make plans.
8. Plan your garden for the year 
Scoop up a stack of garden magazines, a notepad and a pencil, and pour yourself a cup of tea – it's time to sketch out ideas for this year's garden in the shade of your summer umbrella. Drawing your plans on paper is a good way to keep things realistic and plan paths and hardscaping components at the same time.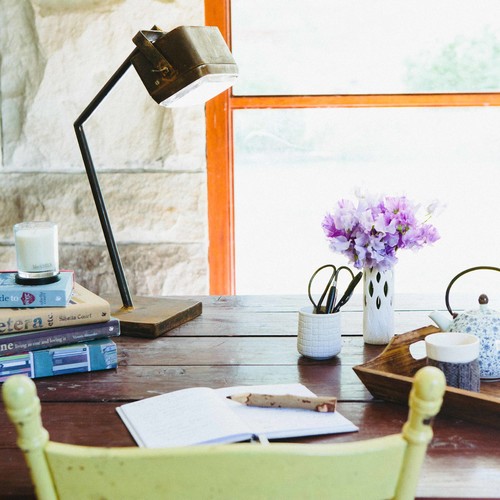 9. Rest, relax and appreciate what you have
Take a cue from the natural world and slow down in summer. Bring your feet to the earth and feel the grass or sand beneath you, and embrace simple pleasures like reading a good book, making a big healthy salad or indulging in an afternoon nap on a summer Sunday afternoon
Photo by Scordio Construction.inc
10. Create space to get some exercise indoors 
Making a workout zone inside or in the garden can be a great help in staying healthy. Even a corner of a room cleared of furniture can be enough space for rolling out a yoga mat or working out with weights – not only in summer but all year round.
article by Laura Gaskill – decorating ideas for houzz
Do you have a question on the local Real Estate market, or should you spend money on your home before you sell, just call Matt Wineera on 0274 951 536 who is always on hand to answer your query.  
Check out our Value Plus Real Estate Selling Commission which saves you lots of money when you sell your home with Matt.
Work with Matt Wineera who lists and sells in the famous summer area of Tauranga, Mount Maunganui and Papamoa for Reality Realty.