The Kiwi Property office in Auckland, designed by Warren and Mahoney, provides amenities for staff that echo what they might have at home.
For many Kiwis, going to work is like coming home, and it's all down to office design and the feel-good factor.
Increasingly, the office workplace is being designed to provide a more welcoming and comfortable workplace – a place where workers feel right at home.
​Warren and Mahoney principal Scott Compton, a specialist in office workplace design, says it's about providing a more personal, flexible and informal work environment.
"We spend the highest proportion of our lives at work – on average, two thirds of our day," he says. "Our homes are designed to bring out the best in us by combining comfort, atmosphere and task-driven spaces, so why should the office workplace be any different?."
Staff at Kiwi Property can sit at a table, just as they would sit in a kitchen at home.
Photo: Warren and Mahoney
Compton says Kiwis today lead busy lives, at work and at home, and are looking for a sense of comfort, belonging and flexibility.
"Employers are responding by designing the office workplace to give employees a range of adaptable and inviting spaces that allow them to work how and where it best suits them.
"I use the analogy that when we are at home we work in the study, cook in the kitchen, eat in the dining room and sleep in the bedroom. It's the same at work. You might take a phone call in a private corner, or have a one-on-one with someone in a comfortable seating area. The office workplace spaces don't all have to be the same.
Details matter in the new Kiwi Property office.
Photo: Warren and Mahoney
"This is a pretty big focus for us – to make sure all these different behaviours are catered for. Historically, the office workplace has been too generic. The lighting is constant throughout, as are the finishes, yet people are trying to do five different things in the one type of environment.
"As we have evolved (the way we work), it has become less appropriate to have such a flat workplace  environment."
Compton says the new synergy means people at work can seek the vibrancy of a sunny living room with a communal kitchen and shared dining space, or the solace of a softly lit study for concentration.
A recent project by Warren and Mahoney, shortlisted for a Best Design Award this weekend, is a good example of the trend.
Compton says the Kiwi Property office in downtown Auckland reflects a number of design influences, from inviting hotel interiors and iconic New Zealand materials, such as the stained green timber of DoC huts, to the front doors of state homes, and materials such as the suede on the concierge desk, which references rural roots.
A range of office workspaces are available for staff – they are not fixed to a workstation all day.
Photo: Warren and Mahoney
Another project by Warren and Mahoney is this 'homely' fit-out for a corporate legal practice in Auckland.
Photo: Sam Hartnett
Staff can perch at a kitchen island, just as they would at home. They can sit on a sofa, or gather informally around a table that wouldn't look out of place at home.
"Today, it's less about transaction and more about encouraging connection and collaboration outside of formal meeting rooms," the architect says. "This reflects a shift from hierarchy to community, to support innovation."
Rugs, artwork, chairs and tables all reinforce the sense of an office workspace with all the comforts of home.
Photo: Sam Hartnett
"The design of the office workplace has to work harder to get the variety and comfort we experience at home. As an employer you can endorse flexible working arrangements – or physically create it for your employees."
Compton says diversity and inclusivity are important values reflected in the design of the workplace today.
"It's about making every demographic, from graduates to working mums, feel valued and included, with thoughtful and accommodating spaces that allow us to bring our best selves to work."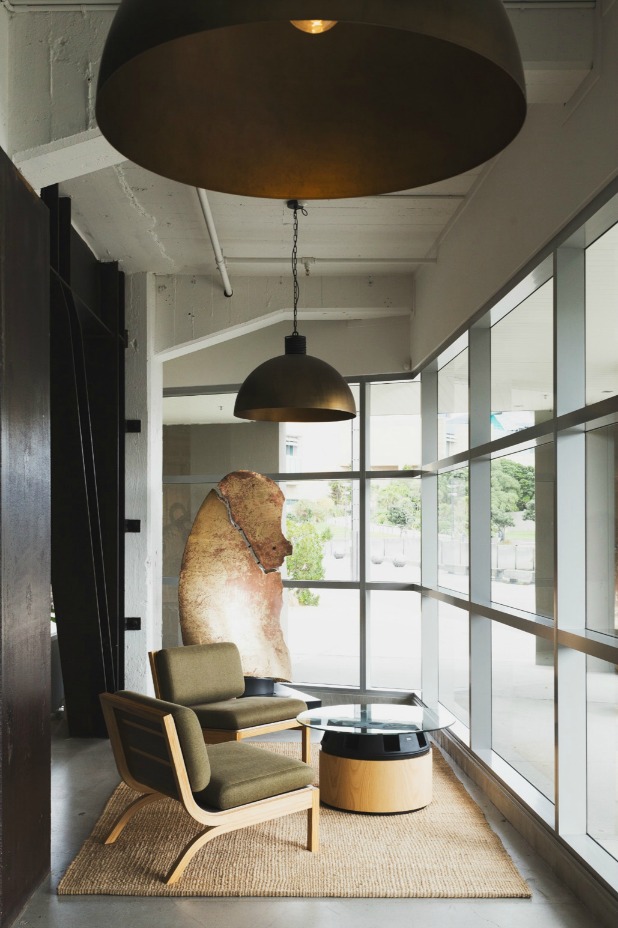 The Herd Street office project by interior designer Charlotte Minty and architect Amelia Minty avoids 'corporate trappings'.
Photo: Charlotte and Amelia Minty
Wellington interior designer Charlotte Minty and architect Amelia Minty took a similar design approach for a client's shared Herd Street office in Brooklyn.
Charlotte Minty says they wanted to avoid the "trappings of a corporate office".
"Our clients wanted the functionality of the office workspace with the comforts of home. The office set-up was to be flexible enough to allow the business to evolve and adapt, including the possibility of sub-leasing desk space, or having the office used as a function venue."
The Herd Street office has the feel of a home, but the decor also reflects its location next to a marina.
The team's re-designed office in a "monastic" building is adjacent to a central city marina. Reflecting the office's marine surroundings, the pair also infused maritime references throughout the space, which is finished in Resene Ship Grey and Resene Black White.
"We included tongue and groove panels, brass fixtures and marine-style lighting. One of our clients is a deep sea diver so we used some of his underwater finds in the final touches. We have portholes adorning the walls, a partial propeller greeting guests on arrival and a ship's windows transformed into bathroom mirrors."
The staff kitchen could be straight out of someone's home, complete with family dining table, a bank of cabinetry and even an oven along with the ubiquitous microwave.
The project won the design team the Neutrals Award in this year's Resene Total Colour Awards.
Both the table and the kitchen cabinetry have a domestic reference.