A lush lawn is beautiful to look upon, but it requires constant care and attention. And if your backyard garden is tiny, shady or steep, grass might not even be an option. If that's the case for you, don't despair – here, three experts reveal how to create a stunning and usable backyard without a blade of grass in sight.
Hardscaping: Lots to love
Perhaps your outdoor area is steep, the size of a postage stamp or you just can't bear the thought of spending your weekends mowing and watering – there are many reasons why a traditional lawn isn't a practical option. This is where hardscaping comes in, and according to the experts, it's worth getting excited about – particularly if you're on a compact site.
"No-mow courtyards are perfect for smaller homes as they allow homeowners to extend their living areas outdoors," says
Leon Travis, national sales and distribution manager at Boral Timber.
Low-fuss and practical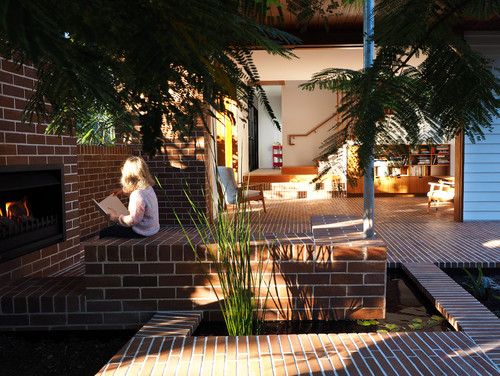 A hardscaped backyard garden will also leave your precious weekends free, says Kitty Lee, principal at Kitty Lee Architecture. "Despite the appeal of a lush green lawn, hardscaping takes far less time and effort to maintain," she says. "And on steep sites, you can use hard landscaping to create flat, usable areas." Zone these out for different functions, she says, such as entertaining, play, growing vegetables and relaxation.
Hardscaping can be used as a styling tool too. "It gives you the opportunity to add different textures and colours to the garden or create a look that matches the style of your house," says Lee.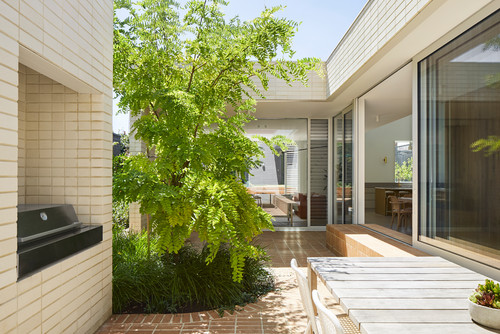 A touch of greenery
"And remember – the absence of grass doesn't mean no greenery whatsoever," says Travis. "Garden beds, trees and hedging can all be integrated into hardscaped surrounds."
Adding a dose of greenery has its practical and aesthetic advantages too, says Lee. "In my view, the addition of permeable surfaces, trees, ground covers or other appropriate plants is essential for every garden. It not only softens the look of hard landscaping, but helps reduce the amount of stormwater run-off."
Looking to redesign your backyard garden ? Find a landscape architect or designer
No-Mow Materials To Choose in your garden
Timber: Timber is ideal for adding a sense of warmth to your outdoor area and connecting it with the natural surroundings, says Travis. It also harmonises beautifully with other finishes and textures, such as brick, concrete and aluminium, he adds.
So which species works best alfresco? "We recommend native Australian hardwoods as they are durable and can cope with weather extremes. Some species, such as blackbutt and spotted gum, are bushfire-resistant too – with blackbutt also offering termite resistance," says Travis.
You can use timber in different ways outdoors. For example, create flow between your indoor and outdoor areas by choosing the same species for decking and indoor flooring, he says.
"Lighter timbers, such as tallowwood, are a popular choice and provide a fresh, neutral canvas for landscaping. Lighter-coloured timber can also help make smaller areas seem larger," he says.
For small outdoor garden areas, built-in timber seating is a great way to accommodate guests and storage without infringing on floor space, says Travis. "Other space-savvy ideas include using timber to include a drop-leaf table attached to a screen, timber fence or pergola."
But the creative ways with timber don't end there, says Lee. "Consider installing a deck with multiple levels or platforms to define areas with different functions. Or add depth to your outdoor area with timber planter beds. Alternatively, use timber to create privacy screens or hide garbage bins," she says.
However, it's important to remember that timber does require maintenance, Lee says. "Some low-maintenance alternatives include composite-timber decking or compressed-fibre cement boards," she says.
If you do choose timber decking, make sure it's properly treated to make it non-slip, particularly around wet areas, such as ponds, says Travis.
Bricks: Classic bricks are low-maintenance and will add a warm, textural feel to your outdoor garden area, says Elizabeth McIntyre, CEO of Think Brick Australia. Bricks can be used in all manner of inventive ways, "from creating a dynamic entertaining space and a pathway to a garden bed with intriguing design," she says.
"Brick paving adds texture, colour and variation to the garden and can be laid in a range of patterns to create different looks," says Lee. Choose new bricks to match the brickwork of your house or recycled ones to add character and something of a rustic feel.
Brick copes brilliantly outdoors. "It's durable, recyclable, impact-resistant, sustainable, good for acoustic and thermal comfort and fire-resistant," says McIntyre.
And you can use it for more than just paving. "Use it to create barbecues, retainer walls, garden paths or seats," says McIntyre. This all-in-one technique is particularly effective in small courtyards, says Lee, where it allows the eye to flow smoothly from one element to another, making the area feel larger.
In terms of brick colour trends, cool grey and white are popular for creating a sleek, contemporary look, she says. However, traditional browns, reds and beiges that blend in with the environment have been gaining traction recently.
Pavers: Pavers, which come in all manner of shapes and sizes, are long-lasting and hardy, making them a great hardscaping option.
One of Lee's favourite looks is to combine large, round pavers or stepping stones with ground cover as an alternative to a straight garden path.
You can also use stone pavers to create a sense of cohesion between indoors and out, says Lee – the secret to success is choosing pavers and indoor flooring in the same tone.
How Do I… Choose the Right Pattern for My Pavers?
What to consider
The most important factors to think about when selecting hardscaping elements, says Lee, include:
Colour: Which tones matches your home's style and colours?
Size and shape: Large-format pavers, standard-size bricks and decking boards will all create different looks outdoors .
Maintenance: Timber decking will require regular maintenance unless it's left to grey off. Stone pavers will need to be sealed.
Drainage: Consider where surface water will go. Is there suitable drainage on the site to collect the water or do you need to include permeable surfaces?
Cost: Don't just factor in the cost of the materials; consider installation and maintenance too.
Related reading: Evergreen Ground Cover Plants
Related reading: How to create a portable vertical garden
Tips for success
Lee says:
Unless your courtyard is small, avoid using one hardscaping material in a single area. While you'll want to keep the palette simple, look to mix in a couple of different materials to visually break up the space and create different zones.
If you can't plant in the ground, add greenery with planter boxes, pots at various heights or a vertical garden.
Consider permeable paving that allows water to drain away.
Add interest with crushed gravel or pebbles.
Be aware that your local council might have soft-landscaping requirements that dictate how much hard landscaping is permissible in your garden.
This article was written by Georgia Madden Senior writer, Houzz Australia
Thanks for reading.
Wishing you a successful day.
Do you have a question on the Local Real Estate market, or should you spend money on renovations of Your Home before you sell, or any information about a local area, just call Matt Wineera on 0274 951 536. Matt is always available to answer your queries.
Work with Matt Wineera who lists and sells in the Tauranga, Mount Maunganui and Papamoa areas.
Check out what clients have to say about Matt
Matt continually achieves great results for Home Owners through his negotiation skills and vast Real Estate experience, knowledge and expertise.
Matt is very passionate about Real Estate and loves being at the coal face.
You can check out, follow and like Matt's Instagram posts and Facebook page
Give Matt a call now on 0274 951 536 or click on this Facebook link to schedule a FREE Current Market Price Report
.