Here's your chance to win your own dream North London British mansion that's valued at over $AUD9 million or $NZD11 million.
INSTEAD of grabbing a lotto ticket, why not use that money to try to hit the property jackpot on a marvellous $AUD9.1m or $NZD11.9m British mansion.
But, there's a catch, budding Aussie or NZ buyers will have to know their British royal history.
Owners Nigel and Melanie Walsh listed their home, known as Dancers Hill House, for sale earlier this year, but due to the difficult property market in Britain and high property taxes, they decided to try a more creative approach.
"Not many people are willing to pay the stamp duty fee that comes with such a large home," Melanie Walsh told CNN.
"It could be up to 12% of the home value, but by entering our home in this contest, we can include the fees, so the person who wins won't have to pay it."
The home has its very own remodelled theatre room.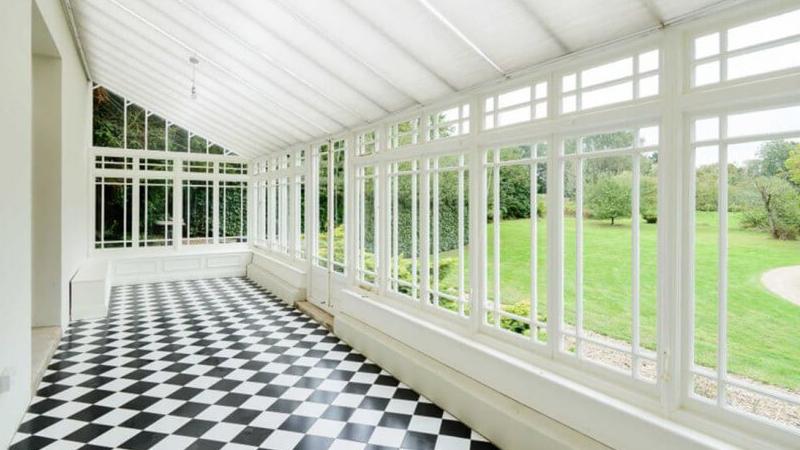 The sunroom looks out over the vast grounds.
The British couple are now offering their British mansion to anyone in the world to win the keys, that is willing to pay the $AUD23 or $NZD25 entry fee to their competition.
In order to enter, you must guess who the reigning Monarch was on Christmas Day of the year Dancers Hill House was built.
Think you know if it was King George II, King George III, King Henry VIII or Queen Anne? If you're willing to part with the entry cost, you could be lucky enough to call this British mansion your home very soon.
The striking manor sprawls across 1.61 ha, and was the backdrop for the 1999 film adaptation of Great Expectations.
It has a cinema room, home gym, wine room as well as its own lake that's home to over 2000 fish.
The kitchen and living room has been extensively remodelled.
… as has the bathroom.
One of the homes many living spaces, with its own fireplace.
The original home was built way back 1760, and has been extended several times in the early and later 19th century.
This British mansion was originally listed for 6.2 million pounds ($AUD10.74m or $NZD11.9m), and is located in Barnet, North London.
They are close by to the celeb-friendly suburb of Hadley Wood, which has been home to stars such as George Michael, Zayn Malik and Amy Winehouse.
The Walshs' first bought the house for $AUD2 million or $NZD2.2m nearly 30 years ago, and have done an extensive remodel in that time.
"Because it was abandoned, when we first bought the home there were so many holes in the roof we had to sign our contract under umbrellas," Mrs Walsh told CNN.
The competition winner will be randomly chosen in mid-December, if the owners have met their $AUD9.1 million or $NZD11.9m target in ticket sales by then.
If it is not met, the contest will then be extended for six months.
"I couldn't tell you how many tickets have been bought so far," Mrs Walsh said.
"But I know one person bought a total of 80 tickets at once."
Be in to win your very own British mansion.