If 2018 was anything to go by, summer 2019 is set to be a scorcher. A home designed and then decorated to capitalise on the heady mood of fun-in-the-sun freedom, brings the holiday feeling home.
The courtyard
Design it: Classic for a reason, an L or U-shaped floorplan becomes an embrace in which to locate a courtyard. It brings the outside to the heart of your home and gives cocktail-cool shelter from the wind or from the hot summer sun.
Decorate: A few large-scale planter boxes (rather than lots of small pots) have high impact. If you can't find any off-the-shelf, ask an engineering company to custom-design some in weathering steel for a contemporary kick.
Windows, windows, windows
Design: Build in Californian modern design style with full-height, floor-to-ceiling windows that allow any room to breathe.
Decorate: Use light-on-its-feet furnishings such as a modern woven chairs (based on the Alvar Aalto classic armchair 406) to keep the aesthetic beach-side effortless.
… And some more windows
Design: Even when you need the solidity of a wall – for a bank of kitchen cabinetry, for example – retain the free 'n' easy feel of being connected to the sky with clerestory windows beneath a high roofline.
Decorate: A splash of blue emphasises the colour of the sky and captures a coastal calm; a pale-blue glass splashback bounces light around the room.
Bringing in the light
Design: Louvres let in a cooling cross breeze – and come with firm locking mechanisms (good for holiday homes that are unoccupied for weeks at a time).
Decorate: Pick up on the resort-style of louvres by adding Hollywood lux such as a freestanding baths, lazy big-as ceiling fans and cane furniture with off-white upholstery – great for that summer feeling.
How to use glass to your advantage
Design: Glass balustrades around decking don't obscure that million-dollar view and accentuate the feeling of open-ness.
Decorate: If you've invested in glass so the vista takes a hero role, don't blow it by cluttering the deck with too much summer furniture.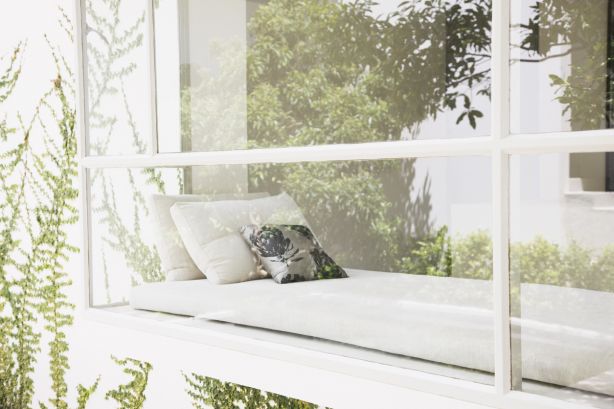 Stairs
Design: Wide, grandstand-style stairways provide access to the patio or pool from the upper levels of a home – and double as casual outdoor seating.
Decorate: Furniture that is easy to move between indoors and out (such as pouffes, stools and side tables) is a budget-smart summer investment.
What about a window seat?
Design: Window seats allow you to read (or contemplate life with a wine) while keeping one eye on the kids (or young at heart) so they don't get up to too much mischief.
Decorate: Use a "here comes summer" shade such as a joyful egg-yolk yellow for the upholstery and sling on a slouchy cushion in a contrast pattern to make it extra comfy.
Don't forget the hallway
Design: Make good use of utilitarian areas. Even in a corridor, slot windows maintain an important link to the outdoors.
Decorate: Don't let your hallway be a bore: it can be an art gallery or a walk-along library with wall-mounted bookcases, or an energetic avenue papered in bold- patterned wallpaper.
-CAITLIN BARRETT
— This story originally appeared on Stuff